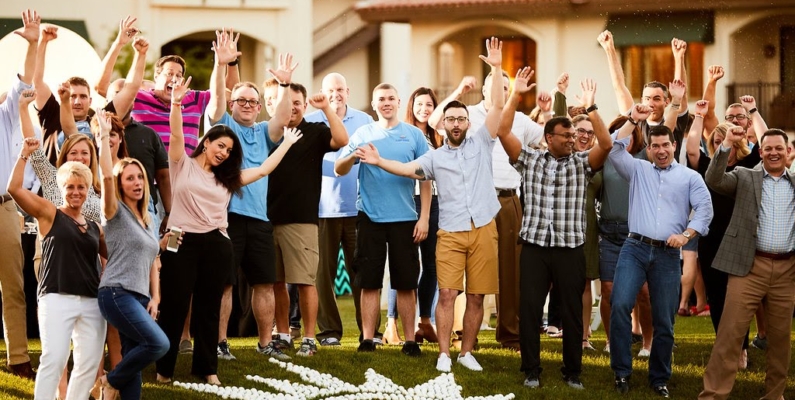 Our People Make the Difference
Our strong culture starts with our core values of quality, service, teamwork, innovation, and integrity. Our people live up to them every day. By doing so, we can achieve our vision of being the unmatched leader in improving quality and reducing healthcare costs for patients in the communities we serve. Our colleague investments are rooted in the idea that our colleagues deserve to feel comfortable, healthy, and fulfilled, so they experience joy in their careers. Just as you work hard every day to support our vision, we work hard to provide the support you need to ensure your success.
The Sound Promise
With growing demands being placed on clinicians, burnout is on the rise all across the country. To truly improve the patient experience, we must first start with properly caring for our clinicians. Sound's "Well-Being" program is solely focused on advancing the well-being of Sound's clinicians. Careers in medicine, at times, require clinicians to forego their own well-being to be of service to our patients and communities. We believe it's critical to acknowledge these sacrifices and offer support by providing resources that foster well-being.

New Sound clinicians don't have to navigate the pre-boarding process alone. Sound has a team of specialists who will function as a clinician's lifeline to the organization through the pre-boarding process helping to coordinate tasks at the right time and communicating across all lanes. These service-oriented colleagues will help clinicians every step of the way from the time they execute an employment agreement until they begin treating patients at a Sound program. We have also rolled out an interactive portal designed to facilitate paperwork and communication, which is accessible by mobile device.

Are you in Texas but know that in two years you have to move to New York? Would you like an employer to move with you (while retaining your vesting and benefits)? In the last three years, Sound has supported the transition of over 150 clinicians across state lines while orchestrating a smooth transition and providing relocation allowances. Let us know where life takes you, and we can develop customized opportunities to suit your needs.

Have you ever wondered if there is a way to measure your own performance versus being grouped arbitrarily with others caring for shared patients? Sound's proprietary platform, SoundMetrix, does just this. Clinicians appreciate getting access to real-time, risk-adjusted data on the most important performance metrics in their specialty–patient experience, adherence to evidence-based guidelines, throughput, and transitional care. Sound's platform allows a clinician to drill down into patient-level data to gain insights into improvement opportunities.

A cornerstone of the Sound colleague experience is the ability to enjoy practice autonomy. Understanding the day-to-day environment at a hospital is a critical component that will help share your Sound experience. As a Sound clinician, you have the unique benefit of being entrenched in the local hospital culture, with access to Sound's nationwide infrastructure of resources right at your fingertips.

We encourage a spirit of innovation throughout all of our hospital programs. With a nationwide network of innovators, we have the ability to test and adopt efficiencies at scale. This results in shared best practices, ultimately driving better outcomes for our hospital partners, our clinicians, and our patients.

In 2019, Sound Physicians established a colleague assistance fund, SoundStrong, as a public charity created to promote well-being in our colleague community by offering financial support to colleagues who may be experiencing severe hardship, the impact of a natural disaster, or loss. Our strength comes from lifting each other. Everyone has the option to support the broader Sound colleague community by donating to SoundStrong.
All Are Welcome Here
Sound aspires to create an inclusive environment for an intersectional workforce, recognizing the gifts people bring by way of their diverse backgrounds, experiences, beliefs, and capabilities. Fostering a strong culture of respect and equity related to hiring, rewarding, and retaining all colleagues is a priority for the organization. Our affinity groups foster our culture of inclusivity and belonging by ensuring all colleagues feel they have a seat at the table, they have a voice, and their voice is heard.
Sound Affinity Groups
The Black Professionals Network (BPN) aims to create and sustain an environment within Sound that fosters the connection, retention, and empowerment of Black business and clinical colleagues.

SoundPride raises awareness and visibility within Sound Physicians of our commitment to inclusion of all forms of diversity, including sexual orientation and gender identity. SoundPride provides general support, mentoring, and networking opportunities to members and provides a voice regarding Sound Physicians' policies and practices related to LGBTQ+ colleagues.

Sound's Women of Sound Affinity Group is a network of Sound colleagues who want to enhance their knowledge, expertise, and research in women and leadership and advance the standing of women in Sound. We believe that progress in Sound's gender talent continuum is an organizational imperative to accelerate growth, innovation, and sustainability.

Sound Physicians has an expert immigration service team.
Learn More