September 21, 2022
Maximize Your Anesthesia Career by Practicing at the Top of Your License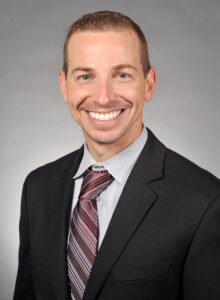 Erik Rauch, DNP, MBA, CRNA, NSPM-C is a Regional CRNA Director for Sound Anesthesia with over 15 years of experience in a variety of settings including Level 1 trauma hospitals, high-risk obstetric facilities, ambulatory surgical centers, and everything in between. In addition to his clinical leadership duties, Erik Rauch is a part-time Assistant Professor for the Nurse Anesthesia Program at the University of South Florida where he served as Program Director from 2011-2014. Erik received his Doctorate of Nursing Practice in 2011, and in 2015 became one of a select number of CRNAs to receive the NBCRNA credential in Non-Surgical Pain Management (NSPM-C). He now regularly teaches ultrasound-guided regional anesthesia at conferences across the country and presents podium presentations at the state and national levels.
We spoke with Erik to learn more about his background in anesthesiology and why he believes Sound is the best place to grow an anesthesia career. Here is what he shared with us.
What is unique about Sound's approach to regional block programs?
What is unique about Sound is it has a regional block program that's made and designed for all types of providers, whether you're a CRNA or a physician anesthesiologist, Sound is the place for you to learn and maximize your regional block skills. Our expectation and our desires are that all our providers are able to practice to the top of their licenses and learn all the skills needed to provide the best patient care.
In terms of the variety of cases, what do you think is unique that Sound can offer to anesthesia professionals?
As a national anesthesia company sweeping the country, Sound has all types of facilities, both in metropolitan areas and in rural areas for you to choose from. Any physician anesthesiologist or CRNA can choose from a huge variety of cases that can be found in any of those facilities.
Sound offers various career pathways and mentorship, tell us about your experience with growing your career or developing additional skills.
One of the most appealing things about Sound Anesthesia is that they offer a huge variety of leadership and clinical growth tracks for you to choose from whether you're a CRNA or a physician anesthesiologist. They believe everybody should have the same opportunity to grow and have a seat at the table. Therefore, if that interests you, Sound Anesthesia is probably the place. For me personally, Sound has offered me a tremendous opportunity to be a leader within the company and continue to have more potential to have a significant impact on our profession.
We lean on a collaborative approach between physicians and CRNAs. Why is this beneficial to both the clinician and the patient?
One of the most exciting things about Sound and where it has become a market leader is in its ability to create a collaborative approach to anesthesia care. Patients benefit most when physician anesthesiologists and CRNAs are working together at the top of their license to provide the best care possible.
We often speak about working at the top of your license. How has this come to fruition with you and your experience working with Sound?
In my 15 years as a CRNA, I've had the opportunity to work in a wide variety of clinical settings and also for multiple organizations. But I can say confidently that I've never had an organization support me more in practicing to the top of my license than Sound Anesthesia. At Sound you will be able to learn how to practice proficiently in any clinical skill set that you'd like, and I can say honestly, that I've been able to do that and continue to grow as a leader within our profession.